These are the must-see attractions, activities, and accommodations.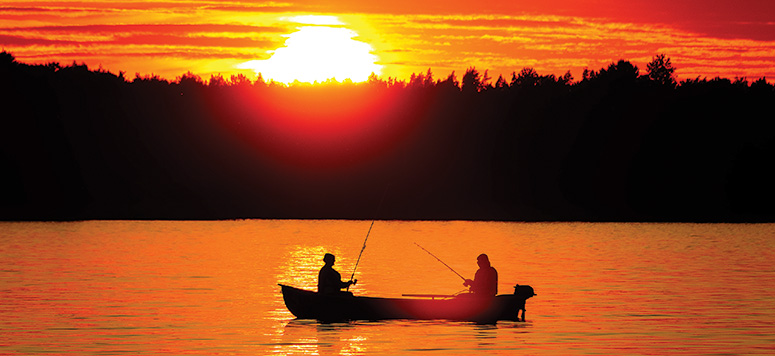 Lake Mille Lacs is the home of hidden gems just waiting to be explored. Located 90 miles north of the Twin Cities, the lake and its surrounding area have never been short on natural beauty, history, and entertainment. Whether you're planning your first trip or looking for the latest attractions, we prepared a guide with everything you need to add to your itinerary to make the most of your visit. You'll find that there's something here for every kind of vacation.
EXPLORE MILLE LACS KATHIO STATE PARK
Lake Mille Lacs' crystal-clear waters and lush wilderness have made it a premium location for parks and wildlife refuges. The favorite on our list? Mille Lacs Kathio State Park. It's a National Historic Landmark for good reason: it was shaped by glacial debris and thousands of years of geological formations, offering a one-of-a-kind outdoor experience for every visitor.
Featuring gorgeous trails that weave through its forests and wetlands, it's perfect for morning hikes or venturing to its swimming beach for a summer dip in the afternoon. You can even rent canoes to journey down the historic Rum River. For the ultimate nature view, we highly suggest climbing the fire tower that overlooks the park, especially as the sun begins to set!
ADVENTURE ON THE WATER
Did you know Lake Mille Lacs is the second-largest inland lake in Minnesota? 132,516 acres to be exact! Lake Mille Lacs offers some of the best boating and swimming around. You can affordably rent a boat, pontoon, paddleboard, or jet ski at places like Your Boat Club.
Helpful hint: if you mention "Eddy's" at Your Boat Club, they'll give you a 10% discount on your boat rental!
If you love fishing, you'll find plenty of opportunities to cast your line here. In the summer, the lake is rich with walleye, smallmouth bass, muskellunge, and northern pike. Want to fish but don't know where to begin? Join a fishing charter! Excellent guides like Matt's Fishing can take you on the water and help you find your first trophy catch. Don't forget to bring a valid fishing license, sunscreen, and a beverage.
LEARN MINNESOTA'S STORY
One of the most unforgettable parts of the area's culture is its deeply significant past. To grasp it, we highly recommend visiting the Mille Lacs Indian Museum and Trading Post. It celebrates the history of the Mille Lacs Band of Ojibwe through fascinating artifact collections and tours, and you'll see their stories, beliefs, and traditions come to life with one-of-a-kind exhibits.
There's a crafts room for unique hands-on learning where beadwork, birch bark basketry, cooking, and embroidery are demonstrated and taught. There's even an outdoor program showcasing wild ricing, canoe-building, traditional dances, and maple sugar processing. For meaningful and memorable gifts, make your way to the Trading Post to buy locally sourced art, music, pottery, jewelry, moccasins, books, and more.
TRY YOUR LUCK AT GRAND CASINO MILLE LACS
For high-quality entertainment that goes above and beyond, Grand Casino Mille Lacs is your destination. The wide variety of games, top-notch concerts, and delicious dining options make it the perfect choice for a night out. Whether you're a casual player or a high roller, you're sure to find something that suits your style. Pro tip: check their calendar before planning your trip. There could always be a big-name act performing or a gigantic giveaway when you visit!
Looking for family-friendly entertainment? Check out the neighboring Grand Makwa Cinema. It boasts the latest blockbuster movies and all your favorite snacks and beverages at an affordable price.
PLAY TOURIST FOR THE DAY
One of the best parts of staying in the area is the sheer number of nearby tourist attractions to enjoy. If you're a golf lover, look no further than the 18-hole Black Brook Course at Izatys Resort. You can play on their meticulously manicured fairway lined with deciduous trees while only a stone's throw away from the lake. Once you're done with your game, pop into the resort's Club XIX restaurant for a bite to eat.
Rolling Hills Arabian Horses and Farm Tours is another must-visit. Take a guided horseback ride through the scenic countryside or tour the farm and learn about the horses they raise and train. They even have a petting zoo! This is a favorite for animal lovers of all ages.
For fun day trips, take a scenic 40-minute drive to Brainerd. You can thrill your taste buds with a visit to Dennis Drummond Wine Co to sample a wide selection of wines handcrafted from grapes harvested in Minnesota's northern vineyards. Brainerd also has great shopping available, like the Westgate Mall. It offers a mix of national chain and local stores, where you'll find anything from clothing to home décor.
STAY AT EDDY'S RESORT
A trip to Lake Mille Lacs isn't complete without staying at Eddy's Resort. It's a modern boutique hotel that offers the best of both worlds – a peaceful and serene location on the shores of Lake Mille Lacs and all the modern amenities and conveniences you could ask for. There are beautiful lakefront rooms and four fully equipped cabins that are just perfect for families.
While some may say they love Eddy's for the panoramic sunrise views or the tasty dinners at The Launch Bar & Grill, what truly makes Eddy's special is its uniquely convenient location. Nowhere else has such quick and easy access to Lake Mille Lacs, the Black Brook Course, Mille Lacs Kathio State Park, the Mille Lacs Indian Museum and Trading Post, Grand Casino Mille Lacs, and so much more. To stay at Eddy's is to experience the best of everything the area offers.
We hope this beginner's guide has inspired and excited you for your next trip to this beautiful region. Pack your bags and get ready to enjoy your time to the fullest!