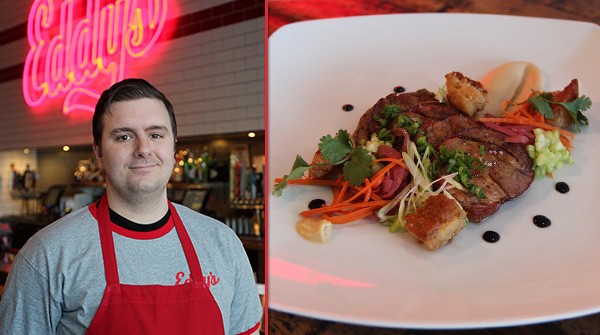 FOR IMMEDIATE RELEASE:
January 28, 2016
Local Chef Adam Murphy Receives Top Honors at 'Taste of Elegance' Culinary Competition The Launch Bar and Grill Chef will Represent Minnesota at National Pork Summit
ONAMIA, Minn. – Most know him as the executive chef at The Launch Bar and Grill at Eddy's Resort, but local Chef Adam Murphy is also known as "Chef Par Excellence" after receiving top honors at the Taste of Elegance event – a cooking competition for the best chefs in Minnesota to show off their pork cooking skills.
The competition was held Monday, January 18 at the Minneapolis Hilton as a part of the annual Minnesota Pork Congress conference put on the by the Minnesota Pork Producers Association. The competition included 14 chefs from around the state representing operations in the Twin Cities and Greater Minnesota. Murphy said that competitions like this provide a great opportunity for chefs from different parts of the state to learn from one another.
"There were amazing chefs at the Taste of Elegance event, and it was a great opportunity to see the techniques that made each chef's dish a little unique and to bring some new ideas back to my work here at The Launch Bar and Grill," Murphy said. "To have the honor of being named 'Chef Par Excellence' in such great company – that was a huge bonus."
Murphy's winning dish of Braised Pork Neck with 5-Spice Pâté, Parsnip Puree and Pickled Onion and Carrots earned him a $1,500 prize and an all-expense paid trip to the Greystone Campus of the Culinary Institute of America in California where he will have the opportunity to represent Minnesota at the 2016 National Pork Summit.
For more information about Eddy's Resort and the Launch Bar & Grill, visit www.eddysresort.com.
About Mille Lacs Corporate Ventures
Mille Lacs Corporate Ventures (MLCV) manages all of the Mille Lacs Band's businesses assets, including Grand Casino Mille Lacs, Grand Casino Hinckley, the InterContinental Saint Paul Riverfront Hotel, the DoubleTree Hilton in St. Paul, Minn., the DoubleTree by Hilton Minneapolis Park Place, Embassy Suites in Oklahoma City, Eddy's Resort on Lake Mille Lacs and other Band-owned businesses such as a cinema, a grocery store, gas/convenience stores, a golf course, wastewater treatment plant and a print shop. It also oversees certain amount of the Band's investments and considers new business opportunities to provide economic support for the Band's future. MLCV has over 3,500 employees and its board of directors is comprised of five members, who guide the business and investment decisions for the Band.
###