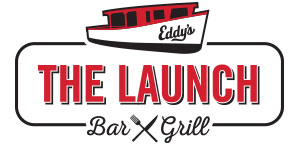 Eddy's Launch Bar & Grill Regional Finalist for the Best Bite Award in the First US Foods – Food Fanatics Awards
by Brainerd Dispatch Nov 13, 2015, at 8:07 pm
An Onamia restaurant's beer batter deviled eggs are one of five "Best Bite" finalists
selected from nearly 1,000 award entries.
Food fanaticism—passion for the restaurant and food service industry—can be found across the country and The Launch Bar & Grill in Onamia represents one of the standouts as it was named as a regional finalist for the Best Bite Award in the first US Foods Food Fanatics Awards. The Launch Bar & Grill's beer batter deviled
eggs are deviled with a gochujang aioli, battered with Minnesota's Grain Belt beer
and served with a Korean barbecue sauce.
"If you looked at the recipe for a successful food business, you'd be sure to find passion among the list of secret ingredients," said Marshall Warkentin, senior vice president, marketing, US Foods, in a news release. "These awards allow US Foods to celebrate this passion and recognize some of the most dedicated, creative and skilled professionals in the industry. The Launch Bar & Grill's accomplishments personify what it means to be a Food Fanatic and it's an honor to highlight their great work."
The Food Fanatics Awards is designed to honor great people in the food and restaurant business who have an epic love for the industry. After receiving nearly 1,000 submissions, the entries were narrowed by regions for all six creative categories:
best bite, culinary genius, big heart, hero, epic turnaround, and top crew. Criteria for evaluation included food fanaticism, creativity and positive participation in the food service and/or restaurant industry.
From this group of regional finalists, the program judges chose six category winners who were recognized at The Culinary Institute of America's reThink Food Conference in St. Helena, California.
Other regional finalists in the best bite category, include:
• OMG Sweet Potato Cinnamon Buns from Sweet Jazmines Bakery in Berwyn, Pennsylvania
• "Pigs N' Figs" Melt Sandwich from American Meltdown in Chapel Hill, North Carolina
• Gus's World Famous Hot and Spicy Fried Chicken in Memphis, Tennessee
• Happy Spoon from Pabu in San Francisco, California
Created by US Foods in 2012, the Food Fanatics program gives chefs and restaurateurs opportunities to explore the world of food and share their passion and expertise through exclusive Food Fanatics Live events, the ground-breaking Food Fanatics magazine and more than 40 Food Fanatics Chefs located in cities nationwide. Go to foodfanatics.usfoods.com/awards for more information about the Food Fanatics Awards.